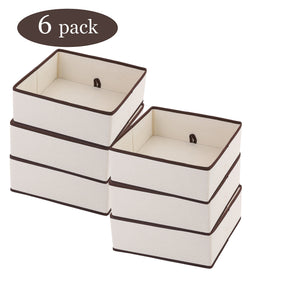 Brand: YBM HOME
Color: Natural With Brown Trim
Features:
THESE YBM HOME ORGANIZER BINS ARE PERFECT FOR in the drawer , on top of the dresser., shelves, closets, cabinets, and countertops
KEEPS UNDERGARMENTS, WARDROBE ACCESSORIES, , baby clothes, jewelry, cosmetics, Scarves, Ties, Belts or even Toys office supplies or crafts organized, and easily accessible
STORE ALL YOUR STUFF! Great for games, toys, arts & craft supplies, and more! No more clutter to upset you day and night! Have a place for everything, and you'll put everything in its place! These storage baskets are the answer you're looking for!
FOLDS UP WHEN NOT IN USE! Each bin is collapsible, so you can save space when not in use! No more lugging bookcases or shelving units around. Just unfold each storage basket, and store them vertically or horizontally. They're light enough to lift up high and keep them out of the way until you need them!, Durable Fabric MaterialMade of breathable polypropylene fabric with reinforced panels. Collapses for easy storage Wipe with damp cloth for easy cleaning
THESE FABRIC ORGANIZERS ARE AVAILABLE IN A VARIETY OF SIZES: Small Measures 5.5 in. W x 5.5 in. L x 4.33 in. H, Medium Measures 5.5 in. W x 11 in. L x 4.33 in. H, Large Measures 11 in. W x 11 in. L x 4.33 in. H., The Set of 2 consists of one Medium Size Bin and one Large Size, The Set of 4 consists of 2 Small Size Bins and 2 of the Medium Size
Publisher: Ybmhome
Details:
The Ybm Home Fabric Dresser Drawer Organizers keeps your drawers, shelves, closets, and dresser tops neat and organized. Use for underwear, baby clothes, jewelry and cosmetics, crafts scarves, socks, undergarments, Towels, Wardrobe accessories, and much more! It can be used for inside the drawer, but it's stylish enough for your dresser top!
If you have kids, use them for toys so you do not step on a Lego at night in the dark! Or, if you are into arts and crafts, these bins make the perfect containers for all your materials. Keep them out of sight until you are ready to use them again!
They also fold up fast for easy take-down when you need to move them. And since they are so lightweight, you will not have to strain your back like you would with a bookcase. You can easily fold these and put them away. But most of the time, they will be functioning quite nicely in your home or office. Since the color is neutral, they blend in with virtually any decor.
Have a place for everything, and keep everything in its place! The YBM Home Storage Cubes are the answer you have been looking for. The solution to a clutter free space is here. With the Ybm Home Collapsible Storage Cubes keeping your home or office organized will be easy. You can use it for virtually any living space. Elegant enough for living or dining room storage units, and easy enough for children's room storage solutions. organizes closets, bedrooms, laundry rooms, craft rooms and everywhere storage needs.
Package Dimensions: 11.2 x 6.1 x 5.6 inches