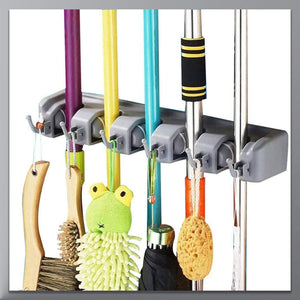 [Heavy Duty AND MOUNTS SUPER EASILY ] -Each rolling ball holds up to 7-1/2 pounds of weight. Made of high quality ABS and slots and screws. Just 6 screws with anchors to ensure that it will be strong enough to hold whatever you want to place in the ball grips

[A MUST ITEM FOR EVERY FAMILY] - Use this storage rack anywhere you need help organizing your busy life! Ideal for storage and organization of brooms, mops, dusters, and yard tools. Apply to your garage, garden, kitchen, laundry, offices and more. It is strong and sturdy. Keep solid on the wall with the slots and screws(Included). DayBuy mop broom holder keeps accessories in place .so you don't have to worry about the mess or the hassle.

[Easy RELEASE& AUTO-ADJUST DESIGN] - There are 5 ball slots and 6 hooks so you can organize as much cleaning utilities, organizer designed to hold various household objects with handles of varying thickness, Hooks can be folded up and out of the way. Simply by lifting the handle, the rolling balls will automatically adjust to each handle's thickness and grip it securely. You do not have to worry that the tools will drop to the floor.

[EXCLUSIVE DESIGN WITH CLOSET HOOKS] - This hidden hooks can be retractable for your convenience, you could stretch the sturdy hooks. for storing many small stuffs, such as keys , brushes, towels, bathrobes or even oven mitts and umbrellas.