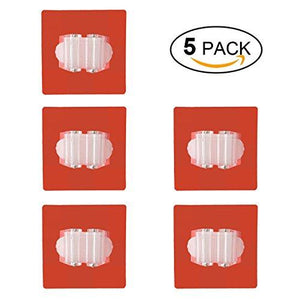 Brand: TUKANG
Color: Transparent
Features:
【Suitable for a variety of smooth wall surfaces】-glossy or scrub glass,glossy marble,solid wood wall,lacquer plate,ceramic tile,stainless steel,and so on.Note:Not stick it on the uneven wall,such as Brick Wall,Concrete Wall ,Limed Wall,etc.
【Suitable for bathroom,laundry room,garden garage】-our self adhesive mop holder is waterproof,so you can use it in the bathroom and laundry room,hanging mop,broom, clothesline pole and so on.Also you can paste it on the garden garage wall to hang other organizer tools.
【Easy to use】-it's designed with two rollers and anti-slip rubber,which is very easy for you to fix or pull out the mop.How to paste it:firstly,clean the wall surface where you want to paste our adhesive holder;secondly,peel off the cover;thirdly,press the basic of the holder to touch steady from middle to edge,make sure you extrude the air and the holder touch with the wall totally.
【No damage to the wall】-this holder is pasted on the wall,you do need to drill a hole or knock in a nail.And because it¡¯s transparent,which is beautiful to home decorating.
【The longer the stickup time, the better the adhesion】-we advise that you wait for 24 hours,after the adhesive holder pasted.And the max hanging weight is 17.6lbs/8kg.
Publisher: TUKANG
Details: 1.Product Name:Self Adhesive Mop Holder

2.Product Size:3.4*3.4*1.7 inches (8.8*8.8*4.5 cm)

3.Net Weight:1.1oz/33g

4.Package:5 pcs Pack

5.Material:PVC plastic+rubber

Notice:

1.If it has dust covered on adhesive surface, please clean it with water and dry it with hair dryer before re-position the hook.

2.Please do wait for 24 hours before hanging any heavy things to these holders.

3.The adhesive holder can hold up to 17.6 lbs, but we suggest hanging objects less than 17 lbs if you will hang them for a long time.

4.Do not attach it on a uneven wall/surface,such as Brick Wall,Concrete Wall ,Limed Wall,etc.


UPC: 655630071120
EAN: 0655630071120