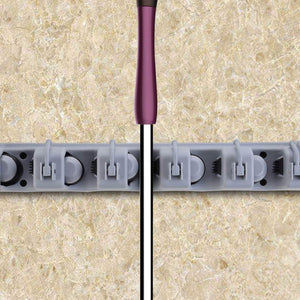 Brand: SummerPower
Color: Grey
Features:
Space-Saving and Sturdy: Wall mounted mop and broom holder provides a solution to clean and organize your garage, garden, kitchen, laundry room, toliet, office. It can dry or air out wet mop and dusters so that you won't smell the musty odor.
Retractble Ball Slots and Hooks: The mop and broom organizer has 5 ball slots positions and 6 hooks which can be pulled down for use or pushed back up if not needed, therefore you can keep your mops, brooms and dusters neatly arranged.
Versitle and Long Service Life: This mop and broom hanger is made of tough plastic, which can hold up to 22lbs (10kg) of weight. It is strong, sturdy, weatherproof, and has long service life. Heavy tools are easily hold with a non-slip rubber gripper. This mop holder withstands extreme temperatures and can be used indoor as well as outdoor.
Easy to Assemble and Use: This wall mount organizer is installed easily, 6 screws and 6 anchors ensure that it will be strong enough. Hold the handles of mops and lift them up then into slots, the rolling ball will adjust itself to different diameters of handles and grip them securely.
Modern Organizational Tool: Small tool has big use. Light grey. Meet your needs. Package includes - 1 Broom Holder; 6 Screws and 6 Anchors.
Publisher: SummerPower
Details: Installation Instruction
1.Check the position on the wall.
2.Drill a hole in each marked place.
3.Insert the plastic into the hole.
4.Put the brrom holder on the wall and tightren the screws.


Prodcuct Features
●Material: ABS. Injection of plastics from a complete mold. This broom holder is sturdy.
●Non-slip rubber grips on both sides of the ball slots, therefore mops and brooms can be hold very well and will not fall down.
●Super easy to assemble and perfect space-saving
●Multi-purpose: Organize the mop, broom, round wooden stick, dustpan, duster, key ring and so on.
UPC: 689771691435
EAN: 689771691435
Package Dimensions: 16.4 x 3.6 x 2.7 inches