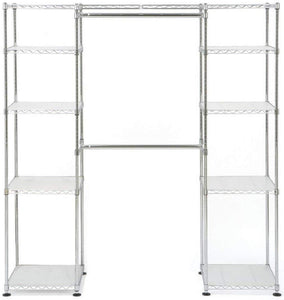 Brand: Seville Classics
Color: Silver
Features:
Organize entire wardrobe with this fully customizable closet organizer. Each unit comes with eight 14 by 14" shelves along with two cantilever shelves for maximum storage space. You can also adjust the height of each shelf at one inch intervals. The unit also comes with two expandable hanging-rods that are adjustable from 30" to 57" long.
Includes 8 side shelves, 2 cantilever (top) shelves and 2 expandable hanger rods. Shelf capacity: 100 lbs. Weight capacity: 125 lbs per hanger rod unextended, 50 lbs per hanger rod when fully extended.
Overall Height - Top to Bottom: 72 Inches, Overall Width - Side to Side: Min: 58 Inches
Overall Width - Side to Side: Max: 83 Inches, Overall Depth - Front to Back: 14 Inches, Overall Product Weight: 53 Pounds
You will also have no problems storing small items on each shelf with eight polypropylene shelf liners included. This shelving system is constructed of steel wire and plated with Seville Classics Finish which provides a soft bright finish. The zinc plating process is better for the environment (compared to chrome plating); fewer harmful chemicals are used in the zinc plating process. Another benefit of Seville Classics plating is the durability of this finish, having passed all required lab testing, this item is backed by a limited 10 year warranty!
Publisher: Seville Classics
UPC: 612085844815
EAN: 612085844815
Package Dimensions: 88.0 x 88.0 x 24.0 inches