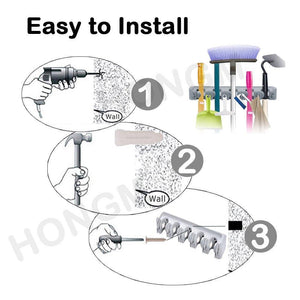 Brand: TongS
Color: Gray
Features:
High Quanlity Broom Holder Wall Mount : Ultra Strong Spring Loaded Slots auto-adjust to any handle size, Easy-Release feature for effortless removal, and 6 retractable hooks. Hands down the best storage solution on the market.
Indoors or Outdoors : Tidy up your broom, mop, rakes, tools and more! Perfect for the kitchen, closet, garage, office, great for commercial use, and thanks to the weatherproof design, this holder even works outdoors or on the shed for your garden tools!
No-slide Guarantee: Commercial Grade Hanger with 50 pound holding capacity! Thanks to the spring loaded, double rubber gripped slots, whether wet mops, dirty rakes or baseball bats, we guarantee nothing slips, or your money back!
RIDICULOUSLY EASY INSTALL - Included with broom holder are all the screws and anchors needed to mount securely, along with clear step-by-step instructions and video that allow even the clumsiest of us can install easily in just minutes!
Introducing our 100% THRILLED Guarantee, no questions, no limits, no hassle. Just click "Add to Cart" now!
Publisher: Made in China
Details: Broom Holder Wall Mount:A "wall" organizer designed to hold various household objects with handles of varying thickness. Simply insert a handle into a slot and a rounded, gravity controlled, rolling ball automatically adjusts to the handle's thickness and grips it securely. Use in the laundry, garage, garden, utility room, offices, and more. Plastic Mop, Broom, and Long-Handled Tool or Sports Equipment Holder System-Mount on the Wall in Your Home's Kitchen or Garage - Hang Items Securely- Great Storage Idea for Staying Organized-Best Lifetime Guarantee.
EAN: 6970383673570
Package Dimensions: 16.6 x 3.5 x 2.6 inches