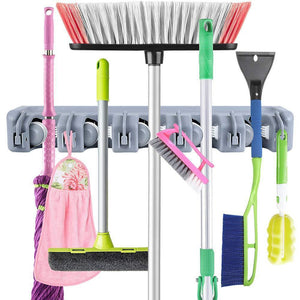 Brand: JOSHNESE
Color: Mop Holder
Features:
➤SAVING SPACE & FAREWELL MUSTY SMELL: The mop broom holder is made of high quality ABS plastic. Its rack has 5 positions and 6 hooks to help you to hang mop and towel. You can be so easy to say goodbye to musty smell. This mop broom holder can save more space and make your family clean and tidy.
➤5 BALL SLOTS & NON-SLIP: Every slot has a ball and a rubber grip to grasp mop. You can put the mop into the ball slot and use a little power to press it down that ball slot can better grip mop. If you want to release your mop just lift it up.
➤6 FOLDED HANGERS: Hidden hangers are retractable. It is very convenience for you to organizer home tools, such as keys, brushes, towels, umbrellas. So you don't have to worry about the mess.
➤6 SCREWS & ORGANIZER DON'T FALL OUT: 6 anchors are evenly distributed on broom to ensure that it can better bear the gravity. And you don't worry about falling from wall.
➤INDOORS & OUTDOORS: It is applied for kitchen, closet, garage, laundry, commercial office,garden, it can provide you a friendly and healthily environment at your home.
Publisher: JOSHNESE
Details:
1.Do you still bear musty with your mop broom hanger?
2.Do you still warry about no place to store your home tools?
3.Do you still angry with your messy towels, keys, brushes, and umbrellas?

Please do not warry:
➠Our mop broom holder can help you solve all problems, It can faster dry.
➠And the mop broom holder can protect your family from hurting by growing bacteria. 6 folded hooks can store keys,brushes and towels to save space.
➠You are worth buying this product wall mounted broom organizer to provide you a clean and healthily environment at your home.

SPECIFICATIONS:
➠Color: Gray
➠Material: Plastic
➠Size: 15.75x2.56x2.76 inch
➠Maximum support weight of ball slots: 3kg
➠Maximum support weight of hooks: 10kg
➠Packaging details: 1x Support, 6 X screws, 6 X anchors

HOW to use:
➠There are 5 ball slots and 6 hooks that can be pulled down for use or pushed up if not needed. Hooks can be folded up.

How to install:
1.Choose the suitable position for the mop broom holder
2.Drill holes at the positions you marked
3.Put the plastic expansion screws into the holes
4.Tighten up the metal screw

Guarantee:
➠When you receive our products or have any problems in the process of using our products, you can contact us via Amazon directly, we will help you solve the problem online 24 hours.
EAN: 8033158952282
Package Dimensions: 16.5 x 3.5 x 2.7 inches