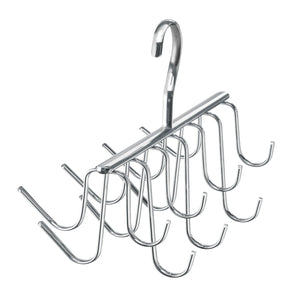 Brand: InterDesign
Color: Chrome
Features:
EFFICIENT STORAGE: Organizer hangs over any closet rod or hook, taking up minimal closet space.
VISIBLE OPTIONS: Displays 7 belts and 7 neckties - ideal for quick and easy choices when dressing.
SMART & DURABLE: Durable steel with a chrome finish, the 2 level tie rack measures 10" x 4.75" x 7.75".
VERSATILE DESIGN: Also ideal for storing and organizing handbags, scarves and other accessories.
THE INTERDESIGN PROMISE: Bringing you elegant, affordable home products for over 40 years.
Publisher: InterDesign, Inc
Details: Keep your ties, belts, scarves and other accessories organized and accessible with this horizontal closet tie and belt rack. Designed to hang over any closet rod, the smart, durable rack includes 14 hooks – 7 each for your favorite neckties and belts, allowing you to hang your accessories in your closet where you can see and reach them easily. Perfect for making quick choices when dressing, the closet storage rack is also suitable for women's accessories and hallway closets, and is ideal for organizing and displaying scarves and keeping handbags off the floor. The sleek, stylish design keeps your ties, belts and scarves tidy and accessible, while the attractive finish looks smart in any closet. InterDesign's creative products enhance your décor, turning simple home solutions into must-have elegant accessories that shine. Designed in the USA, we are proud to produce a wide selection of high quality home, bath and storage solutions that excite, inspire and charm. Stylish, functional and affordable, our products have been enriching customers' homes for over 40 years. InterDesign: innovative products, exceptional value.
UPC: 81492266709
EAN: 81492266709
Package Dimensions: 9.9 x 7.9 x 4.3 inches