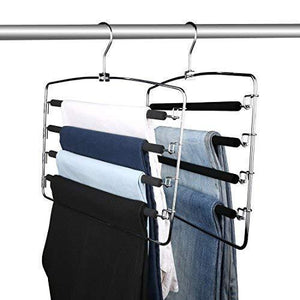 Brand: Globle Direct
Color: Black
Features:
▶SWING ARM: 4 arms swing out individually to hang up to 5 pairs of slacks.Select and remove the slacks you want to wear with ease.
▶NON-SLIP: Non-slippery and non-creasy foam padded arms and 4 upper arms can rotate at 360 degree and swing out individually.
▶ORGANIZE YOUR CLOSET:Group your slacks together by style or by function in you closet.you'll be able to find thing quickly and easily.
▶SPACE SAVER:Creates extra vertical hanging space in any closet,Make room for more clothes.
▶MATERIA:Durable chrome steel and foam-padded non-slip bars ,non-slippery and non-creasy.SIZE:14.5"x14.5",0.95 lbs.
Publisher: Globle Direct
Details: ▶Space Saver
This hanger is an excellent choice for maximizing space.
It can create vertical hanging space in your closet.
It hangs up to five pairs of slacks, and features a swing arm mechanism to make removing them easily.
Can also be used for slacks, skirts, jeans, coats, blouse,scarf, and so much more.

▶4 Foam Padding Swing Arm
Swing arm open for easy access to pants and slacks.
4 swing arms can rotate at 360 degree and swing out individually

▶Chrome Finish Swivel Hanger
The stainless steel hooks are finished in shiny chrome,adding to the luxurious aesthetic of the hangers.
The hooks swivel 360 degrees making browsing, accessing, and hanging clothes all the more easier.

▶Durable Chrome Steel & Foam Padded
Made of strong steel metal.
Durable chrome steel and foam-padded non-slip bars ,non-slippery and non-creasy.

▶Easy to Take
Folding Hook,easy to pack into your garment bag.
the trouser hanger is an excellent asset for those gentlemen on business trips who have to say in hotels that don't offer much closets space.

▶Others
Color: Black
Weight: 0.95lb
Size: 14.5 x 14.5 inches
UPC: 611864437712
EAN: 611864437712
Package Dimensions: 15.4 x 11.2 x 1.9 inches