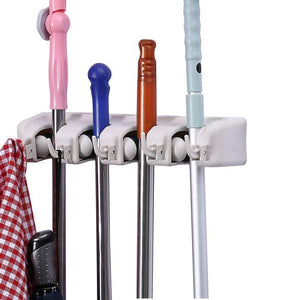 DeoDap 4 Layer Mop and Broom Holder, Garden Tool Organizer, Multipurpose Wall Mounted
Do you have brooms, mops or Swiffer sweepers cluttering up your kitchen storage area? Hang them neatly on your wall with this wall organizer. Just place the handle in a slot, let go and friction will hold it in place. This wall organizer can also be used as your storage solution in garages for long handled tools or sporting equipment. This broom and mop holder wall mounted is also ideal for tools, garden and sports equipment as well as musical instruments and general storage.
From Mess to Home Decor
If you have cleaning supplies taking over your bathroom, kitchen, or garage shelving with this storage organization system you will want to show off to your guests!
Indoors or Outdoors
Tidy up your broom, mop, rakes, tools and more! Mount on the wall of your kitchen, closet storage, garage, shed, or office. Great for commercial use and, thanks to the rack's weatherproof design, this holder even works outdoors or in the shed for your garden tools!
Ridiculously Easy Install 
Included with your heavy duty broom holder are all the screws and anchors needed to mount shelf securely, along with clear step-by-step instructions and video that allow even the clumsiest of us can install easily in just minutes!
Package include: 1 x 4 Layer Mop and Broom Holder