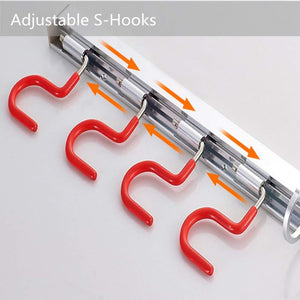 Brand: Cavoli
Color: B
Features:
Made of high quality metal, Cavoli broom holder never succumbs to rust even in wet environment, and easier to be cleaned than plastic toilet brushes. This Wall Mounted Mop and Broom Organizer is sturdy, durable & best for heavy duty cleaning.
Compact sizing and clean design garage organization systems,Each Hook holds up to 7-1/2 pounds of weight
Can Adjust the position of holder and open to the left, but they will not slide out of their channel, since the ends are sealed. The large ones have plastic ends so that they can grip the long handles without slipping.
Easy to install:Just look at a glance,you will know how to install it. Concealed screw mounting, Come with 1 x Mop and Broom Holder 3 x Screws
Used in many places:bathroom,garage,kitchen and so on ,broom holder wall mount bring your life considerate service.
Publisher: Cavoli
Details: Description
1.Feature:The broom holder wall mount can be move from one side to another side to meet your need,and the mechanical design can automatically fix mops ,and used for hanging mops,keychains,and towel as the pictures show.
2.Material:Zinc alloy,stainless steel
3.Exterior: mop hanger organizer is made of space aluminum rack and plastic holder.
4.Condition: Used for bathroom,toilet,shower,bedroom,etc.
5.Package: Filler in the hard carton and foam bag to cover this item to ensure it will be safe to delivery to destination.And the fittings are in the plastic bag to avoid losing.
Package includes
A item,some fittings with a bag
6.Installation: Wall-mounted.

Installation Instruction
1.Mark the position of the punch.
2.Drilling.
3.Make the expansion screws.
4.Chassis mounting.
5.Item installation.

Buy From Cavoli
We take full ownership and responsibility for the quality of our products and will do our very best to solve your problem quickly and efficiently!
All of our products are designed and Manufactured by Cavoli.
Cavoli products are sold by authorized sellers only.
UPC: 740690278449
EAN: 740690278449
Package Dimensions: 16.3 x 4.8 x 2.2 inches