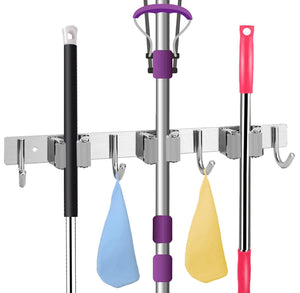 Brand: Aiamo
Color: Grey 3 Racks
Features:
Strong traction: high-quality metal bracket, can help you hang more tools, save space.
Premium Materials: Made from SUS 304 stainless steel and anti-slip silicone, rather than cheap plastic
High elastic buckle and plum-shaped gear design, can better clamp broom, kitchenware, sports equipment, gardening and other heavy-duty tools, support the maximum diameter of 1.25 inch tool
Wide use: not only for kitchens, bathrooms, garages, laundry rooms, basements, offices, but also for outdoor courtyards, huts or garden walls
Two types of installation: 3M self-adhesive or screw drilling, you can choose the appropriate installation plan according to the wall, self-adhesive requirements smooth wall, rough wall more suitable for threaded drilling
Publisher: Aiamo
Details: The product comes with 3 grippers and 4 hooks, suspended for a wide range of items to help you optimize your living space and is a must-have storage tool.

Rugged stainless steel can withstand heavy loads more than plastic, is not easy to deform, stable and not easy to fall off.

With waterproof, moisture-proof, anti-rust characteristics, is not made of cheap plastic.

Packaging includes:
1 brackets + 4 pcs 3M adhesive (Extra Gift 2 pcs) + 2 screws + 2 screw cover + 1 description card

Bracket size: 14.96 x 1.96 x 1.2 in

So beautiful and practical home tools, do not miss, now "add to cart", immediately owned.

【Quality assurance】
You will enjoy 24 hours of professional service throughout the day, 30 days of hassle-free full money back guarantee, quality customer service, so that you have no shopping worries.
If you have any questions or grievances, please feel free to contact us.
UPC: 637938584274
EAN: 637938584274
Package Dimensions: 16.5 x 2.4 x 2.0 inches